Royal Villas West - LOCATION
After reaching Tagaytay Rotonda, turn right. When you reach the fork in the road (landmark – Petron), proceed to the right side going to Mahogany. When you arrive at Crossing Road, turn right (landmark – D'Rising Gas Station) going to Crisanto M. Delos Reyes. Afterwards you will pass Kimberly Hotel. In a few minutes you will see Signage at the right side, enter that road going to Royal Villas West.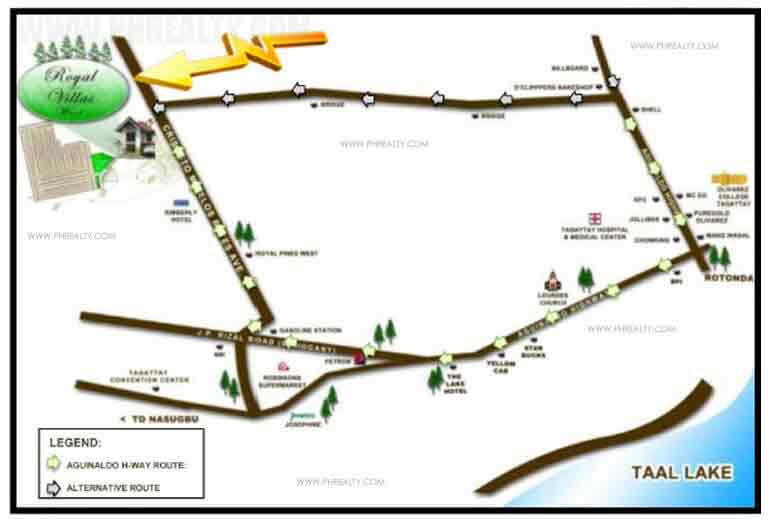 The exact location of the Royal Villas West is at Brgy. Salaban, 4119 Amadeo, Cavite. It is just an hour drive from Makati if you would take the South Luzon Expressway. Because of its strategic location, it is also ideal for those working in the Makati area who want to go home to a relaxing and serene sort of vacation home every day.
If you are coming from Tagaytay, it is just about 8 minutes away of leisure driving from the Tagaytay Rotonda. From the Rotonda, you just need to turn right until you reach the road fork (landmark is Petron). Take the right side road that goes to Mahogany. Upon arriving the first road crossing, take a right turn going to Crisanto M. Delos Reyes Street. Just follow the road and in a few minutes, you'll see the signage at the right side of the road.
The easy accessibility of Royal Villas West from Tagaytay proper and from Makati, allows you to easily escape the busy life of the metropolitan. Living in this place can give you a rejuvenating solace and a perfect escape from the hustle and bustle of the city. Just imagine going home to a place with a naturally cool weather, greeneries around, and a relaxing ambiance. It will make you dream of coming home early.
Moreover, the Royal Villas West is close to everything your family needs. You wouldn't have to endure long hours of driving just to go shopping or take your kids to school. The best part is, you are also close to some of the beautiful and well-visited attractions in Tagaytay.

Nearby shopping/retails outlets
Some of the closest commercial and shopping centers at the Royal Villas West include the Robinson Supermarket, Puregold, SM Savemore, Magallanes Square and the Olivarez Plaza. You can go to these places either by private or public transport. With these nearby commercial establishments, you can easily shop for your needs anytime.

Nearby schools
If you have kids, you can also send them to any of the schools located near your place. They include the MATERDEI Academy, Olivarez College, St. Anthony Rogationist College, and the City College of Tagaytay.

Nearby hospitals
It is great relief for Royal Villas West residents for this community to be near the Tagaytay Hospital & Medical Center. You can have peace of mind in that should you have medical emergencies, you'll be able to get immediate attention and medical aid.

Nearby gateway and leisure centers
A balanced life means taking a break from work or school from time to time. And you don't have to go far to do this because if you live in this community, you are just minutes away from the popular Tagaytay Picnic Grove and Paradizoo. Many people coming from the metropolitan areas and nearby towns and cities travel far and flock to these places on weekends. You are privileged to be living close to these places. Other leisure centers nearby include the Tagaytay Fitness Center as well as the Hotels & Fine Dining Restaurant.
Location-wise, the Royal Villas West is in a very beautiful and accessible site. You'll find it easy to go in and out of the big city of Makati and of Tagaytay when you live in this place.